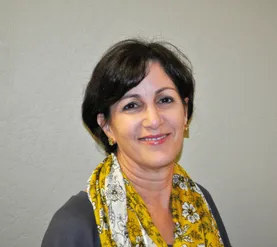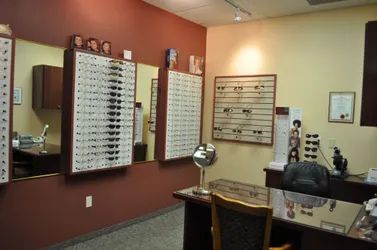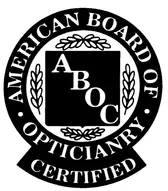 ---
Why buy your glassses at Victor Eyecare Optical Shop?
Service
There are many considerations that go into picking out the right frames and lenses. Shape, style, size and color are the visual components people look at first when deciding on new frames. However, frame fit and lens selection are just as important for the glasses to perform visually as well as aesthetically. Our certified optician, Staci, will spend the time necessary to help you make the best decision in frames and lenses to fit your personal vision and lifestyle needs. Staci takes the time to learn and understand what is most important to you, and make sure you understand how the glasses work to give you the best vision possible. She works closely with the medical staff to ensure that your visual requirements will be clearly understood and communicated. The end result is optimal vision for you!

Frame Selection
Victor Optical shop is conveniently located right next to the office lobby. Inside you will find a wide selection of quality frames in a variety of shapes, styles, and colors for men and women. If you have a hard to fit face, look no further. We carry beautiful petite and large size frames for women, and sturdy XL size frames for men. For eye protection in the office, on the job site, and in the great outdoors, check out our expansive collection of Wiley X wrap and optical style ANSI safety rated frames.
Lenses
There are many different lens designs and materials to choose from when designing a pair of glasses. Designs include single vision, lined bifocals, trifocals and progressive lenses. Among the most common material choices are CR-39 (plastic,) polycarbonate, trivex, and hi index. We discuss your eyeglass prescription, hobbies, activities, work habits and electronic devise usage to determine what frame size and style, lens design and lens material will work best for your personal needs.

Lens Enhancements
Lens enhancements are treatments added to the lens to help improve vision, clarity and extra lens protection. Anti-glare, also known as anti-reflective or A/R, gets rid of distracting glare caused by artificial light indoors and night time glare outdoors. Photochromic lenses contain technology that is built into the lens, that allows the lens color to change from clear to dark outside when exposed to the ultra violet rays of the sun, and back again to clear when inside. Polarized lenses are sunglass lenses that block the blinding glare of the sun in specific conditions. With so many options to choose from, it is important to work with an optician who can explain what options are best for you.

Patient Testimonials
Dr. Victor is an amazing ophthalmologist! His team is exemplary & professional. I must compliment his optician, Staci. She's amazing! She measured me & showed me beautiful frame options that I'd never have been able to find on my own. I purchased 2 pair of very cool frames with fabulous options for living here in the desert. She's engaging, intuitive and professional. She has remarkable tast & helped me select frames that reflected my "personal" style. (A++) I'll be back for a 3rd pairs soon!!!
Y. Thompson
"I don't believe I've seen this well since before I ever needed glasses. When I put my glasses on, distant objects have such clarity and definition. I feel like I've got x-ray vision! Thank you, Dr. Vic
R. Campbell
Optical Shop Hours
Monday, Wednesday and Thursday: 8:30 - 3:30
Walk-Ins Welcome
To schedule an appointment, please call 623-977-9000
Outside Prescriptions Welcome
Eyeglass Adjustments and Cleanings Always Complimentary!